Long lasting solutions for flat roofing London, that's guaranteed for 20 years and are designed to last for at least 60 years!
London City Roofing are knowledgeable local experts when it comes to supplying, installing and maintaining your flat roof in London. Therefore, you require a London flat roof repair, total replacement or simply some advice on your roof. For example, which roof system to use? Can your London flat roof be repaired?
Call our roofer today on
.
We'll answer your questions or do a free site assessment.
We pride ourselves on the high quality of our workmanship and we ensure that all of our customers are completely satisfied. From competitive quotation, then throughout the installation process to completion and beyond. London City Roofing will consistently deliver the best value and quality roofing for your home. Reassuringly, as an experienced London flat roofing company, we have built a reputation of being reliable time and time again.
Remember all of our flat roofs in London are guaranteed for 20 years and will last for at least 60 years!
Flat roofer London single ply roofing, EPDM & more
Our expert local London flat roofers specialise in all types of flat roofing on residential and commercial properties. Consequently, we understand our industry extremely well and can apply our knowledge and experience to various flat roofing requirements. Only the highest quality materials and tools are used by our professional team to ensure that the best possible results can be achieved. For example, single ply roofing London, rubber EPDM flat roofs London, Fibreglass and Felt Flat Roofing London.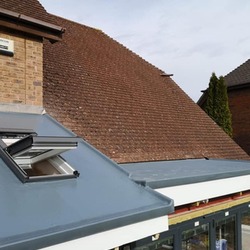 Fibreglass Slope & Flat Roofing London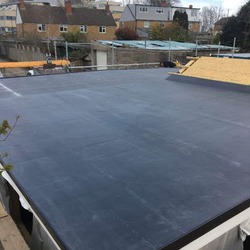 Rubber EPDM Flat Roofs London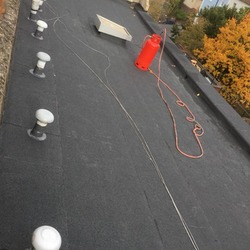 Torch On Felt Flat Roofing London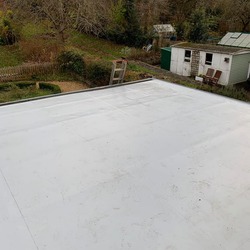 Single Ply Flat Roofing London
Single Ply Flat Roofing London
Rubber EPDM
Felt Roof
Single Ply Roofing
Flat roofing is a UV and weatherproof making it the perfect solution for all types of domestic and commercial. As a result, applications include porches, extensions and garage roofs. Consequently, our London flat roofing company installations are maintenance free and made to last.

London City Roofing Flat Roofing London
When you choose London City Roofing for your new flat roof you won't be disappointed. We offer a professional, honest and reliable service and we can provide free quotations on our flat roofs. To discuss your specific flat roofing requirements, please get in touch.
Get dedicated, focused tradesmen and quality workmanship that's efficient and professional. Plus, our competitive best value pricing promise ensures your new flat roof will be installed at a great price!
Q1. Does your roofer fit your products over the existing roof cover?
A. It is possible to do this but in the vast majority of cases the felt cover will need to be removed to ensure that the roof structure is sound
Q2. Is it correct that the life expectancy of flat roofing is in excess of 40 years?
A. Yes, this is certified by the British Board of Agrément (BBA). We supply and install our flat roofing Bristol to last as long as possible.
Q3. Can my window cleaner walk on the roof?
A. Yes our flat roofing systems will take light foot traffic although if ladders are to be used it is recommended that the area is boarded out.